Dental Billing And Collection Services COMPANY
The Best Dental Billing Company To Streamline Your Dental Billing Process
Get Professional Assistance for Sorting your Dental Practice Challenges, and Don't lose what is rightfully yours, connect with EZDDS team to overcome insurance verification and bill collection challenges.
We at EZDDS know that dental billing can be a headache. However, our team of experts has the expertise and experience to solve your Billing Hurdles quickly, so you'll never have another sleepless night worrying about your AR and Aging and Denied Claims.
Tell us what you need so you can meet your virtual assistant.
Claimed For Diligent Dentists Like You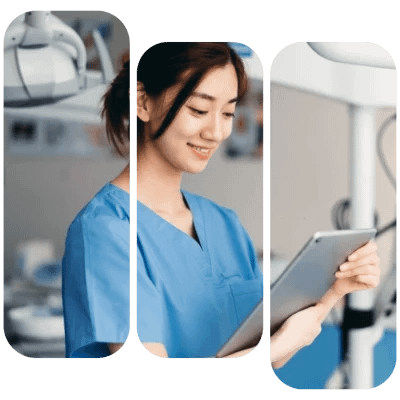 The Dental Billing Brand Promise
EZDDS can help grow your account receivables with an efficient management system, whether you're a small or large business. We'll ensure all insurance claims get processed and money is collected for everything that belongs in our clients.
100% of what is owed to you will be collected
Our team submitted all claims for payment within 1 business day.
All payments are posted to patient ledgers in a timely fashion
We reduce your insurance aging to less than 5% percent (and keep it there).
#1 Dental Billing Company to Ensure Increased Cash Flow and Decreased Overhead Expense
Here's What We Promise Each Client

Effective Management
We relieve your staff from dealing with time-consuming patient verification and payment collection issues.
Competitive Service Plans
We offer a variety of scalable monthly packages for dental insurance service fees to keep it affordable & simplified.
No Long-term Contracts
We conform to risk-free monthly contracts that makes it convenient for you to opt-out of our services whenever you want
Start-Up
Per Location, Per Month
Intermediate
Per Location, Per Month
Advanced
Per Location, Per Month
Enterprise
Per Location, Per Month
About EZDDS Dental Billing
With over 6 years of experience in dental billing and verification services, EZDDS offers the best dental billing and verification services for dental practices to manage their accounts receivable. With our help, you'll be able to provide patients with the high-quality care they deserve and bring in more revenue.
We are committed to providing our clients with a long list offering tailored specifically toward maintaining efficiency and keeping track of all your revenue streams while also ensuring that you're getting paid what's owed.
We offer a range of dental billing and verification services to help you succeed in the dental industry. We have it all covered, from office management, financial planning and more.
EZDDS team is helping dentists with their billing needs and providing customers who enjoy our customer service style an opportunity to spend more time enjoying what they do rather than worry about numbers.
Why Choose EZDDS Dental Billing Company?
Save thousands on collections
The EZDDS platform not only helps you verify your patients' insurance upfront but also allows for the seamless flow of payments. This means that no one falls between a rock and hard place when it comes to their out-of-pocket expenses - they are fully informed about what will be covered by an insurer before treatment begins which eliminates frustration on both sides.
Cut accounts receivable
The best way to avoid outstanding balances with patients when they're due for their treatments is by updating and verifying the insurance information on file. This will allow you to provide more accurate cost estimates so that no one goes out of pocket, which means happy patients who keep coming back again and again.
Fewer surprises, greater patient satisfaction
When a patient is happy with their treatment plan, it means more Satisfied patients. No-show appointments are reduced and patient referrals flow because you've eliminated the unpleasantness of having to tell someone they owe far less than what had quoted them on initial consultation.
EZDDS Dental Billing Reviews
Mike and his team have been amazing! They work efficiently and are always very helpful and responsive.
The team at EZDDS have been wonderful! They work efficiently and are always willing to adjust to the needs of our practice. They are very responsive and clearly have a passion for the services that they provide.
Best insurance verification team that have worked with!!! excellent team great communication
Dental Insurance Verification Service
Got your billing streamlined with EZDDS Billing. With EZDDS, you can rest easy knowing that all of your patient's insurance needs are taken care. You won't have any more worries about denied or delayed claims because we'll help verify their plans in time and offer treatments which rightfully fall under what they cover!
Best insurance verification team that have worked with!!! excellent team great communication
Get Flawless Dental Insurance
Services
With EZDDS, you can be confident that your patients are getting the necessary care. With one call to our company, we'll take care of everything from verifying their insurance coverage and processing claims for payment on their behalf, so there isn't any hassle or delay in receiving payment.
We're the best at what we do because of our diverse experiences. Our team members come from different backgrounds and have worked with various insurance companies, which allows us all to provide you with an individualized service that will exceed your expectations.
We strive to make your life easier and more fulfilling. Our streamlined processes reduce the amount of time you spend on paperwork, allowing us to provide excellent patient treatment while still maintaining its quality standards.
Frequently Asked Questions
Do you have a question about your dental bill? You're in luck! We've compiled a list of questions that most dental practitioners have about our services. If you still don't feel satisfied, please contact us and we will be glad to answer any questions you may have.
Consider EZDDs Billing to be an extension to your dental office; we handle the clinic administration so you can focus on delivering the best possible dental treatment.
You deserve to get every penny of what you truly own!
We are committed to the fast processing for clearance.
Efficient updating in patient's ledgers.
With an international clientele base, we provide world-class care and accountability.
Utilizing Best Dental Practice Management Softwares to Rationalize Your Insurance Verification & Bill Collection Tasks
Get Started With EZDDS Dental Billing Today